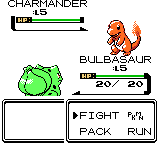 Name : Pokemon Red gen II Graphics Path
Hacker: Danny-E 33
Rombase: Red
Version: V 1.2

FEATURES:
-Customizable sprite banks
-All sprites from GSC
-Individualized sprite palettes (Pokémon and trainers!)
-Gen. II style 6x6 back sprites
-Several palette corrections (The Pokéball tile is always red. Oak intro in full color!)
-Updated font, and other tiles, to match Gen. II
-Inserted the graphics for the GSC battle HUD
-Three imported songs from GSC!

DOWNLOAD:
- Pokemon Graphics V1.2 JAR [476KB]
- Pokemon GFX&Music V1.2 JAR [487KB]


..