Download Pokemon The Tempest + Tutorial Bahasa Indonesia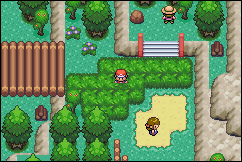 lihat semua screenshot...>>
Nama: Pokemon The Tempest
Hacker: Chy
Rom Base: Fire Red
Bahasa: English
Versi: Beta 2
Penghargaan: -

FEATURES:
- The new region of Splithe
- An awesome plot
- The hero starts with an EEVEE and gets to choose between 3 evolution stones
- Some evolution changes to make pokemon like ALAKAZAM obtainable
- Gym Leaders have private Pokemon
- Gardens with very special Pokemon in them for you to catch!
- Running Shoes are usable inside buildings
- An EV training sector
- Shiny encounters
- The Pokeball a pokemon is caught in can be changed.
- Character Bios

DOWNLOAD:
- Pokemon_the_tempest_beta2.zip [5.1MB]

NOTE:
Untuk memainkan game ini di Hp Symbian,kamu harus menggunakan emulator. Silahkan download emulatornya DI SINI.
dan agar bisa menggunakan emulator,HP Symbianmu harus sudah berstatus Hacked. Cara hack Hp silahkan lihat DI SINI.
Untuk pengguna Hp Android download emulatornya DI SINI.
Dan untuk pengguna komputer/leptop download emulatornya DI SINI.