Download Pokemon Top Secret + Tutorial Bahasa Indonesia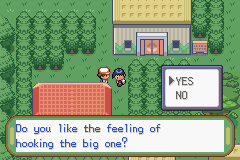 lihat semua screenshot...>>
Nama: Pokemon Top Secret
Hacker: Megiddo-San
Rom Base: Fire Red
Bahasa: English
Versi: Beta 1.5
Penghargaan: -

FEATURES:
- New Pokemon
- New story (duh)
- New Rival(s) Not sure if it's going to be just the one
- New evil team Be part of the good team
- New Tiles (going to be made with Don Patch's help - tried to make a working tree and mart but couldn't. going to make mountains or other buildings)
- New OWs, sprites, etc
- New Trainers
- New Region
- Possibly being able to visit part(s) of Hoenn, Orre, and Sinnoh
- All legendaries and one new one. Events will be completely different from DJG's. I did not steal his ideas. I had this planned out before I ever saw Ruby Destiny.

DOWNLOAD:
- Pokemon_top_secrep_beta1.5.zip [5.3MB]

NOTE:
Untuk memainkan game ini di Hp Symbian,kamu harus menggunakan emulator. Silahkan download emulatornya DI SINI.
dan agar bisa menggunakan emulator,HP Symbianmu harus sudah berstatus Hacked. Cara hack Hp silahkan lihat DI SINI.
Untuk pengguna Hp Android download emulatornya DI SINI.
Dan untuk pengguna komputer/leptop download emulatornya DI SINI.